It was a day of joy; it was a day of sadness. It was a day of triumph; it was a day of "what the?!" I speak, of course, of today, October 5, 2007.
First of all, did anyone catch the Utah/Louisville game tonight? I have to say, Utah is becoming less a hated rival and more a hilarious comedy sideshow to me. I am beyond hating the Utes; now I laugh at their extreme bipolar personality disorder. Just like that one friend who watched WCW with you in seventh grade, and then later turned into a drugged-out loser in eighth grade, the University of Utah can't seem to find a clear definition of who they are. They get stuffed by Air Force, then go on to kill UCLA. They get shut-out at UNLV, then go on to humiliate Louisville on national TV. I don't understand how Utah can get up for big games, but I'm not mad. I guess it's because I don't view Utah as a threat anymore. They're just funny to me. Let it rain, Utah Utes. Let it rain.
Now, in baseball news, it was a great day for guys like me who have a
natural affinity toward New England and the Boston Red Sox. I've never been to Boston, but the people of New Hampshire really taught me to love the Red Sox, and I was fortunate enough to catch the end of game 2 between Boston and Anaheim tonight. Let me set the stage: 2 outs, 2 on. David Ortiz had just been walked, and Manny Ramirez takes the first pitch for ball 1. The second pitch was a fastball right down the gullet, and Ramirez put the wood on that thing like Ric Flair putting a figure-four leg lock on the Million Dollar Man Ted DiBiase (too many wrestling references?). Anyway, Ramirez hits a three-run shot out of the park, and I could hear the roar from Fenway clear in Provo. The Red Sox won thanks to Ramirez' walk-off homer, and I have to admit, it was a cool thing to see.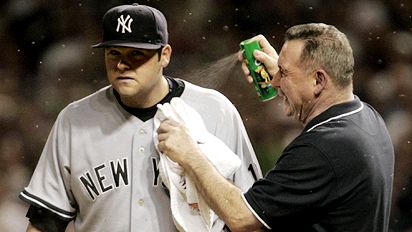 Also, the Yankees lost. Good for the Indians! My dad was a little upset about this since he is a big Yankees fan, but I tried to tell him: This isn't the Yankees you used to love. This isn't Joe DiMaggio's or Mickey Mantle's team any more. The Babe is long gone, as is Yogi Berra. The Yankees of 2007 are an evil empire made up of money-grubbing pretty boys who sold their souls for a chance to win a World Series. That being said, You know what makes me so happy? Even with all their money, all their talent and all their resources, the Yankees still can't seem to win a championship. They're the Notre Dame of Major League Baseball.
What a good day for sports fans. Tomorrow promises to be just as good too- LSU beating the tar out of Florida, Oklahoma vs. Texas in the Red River Shoot Out, and Elder Eyring laying the smack down on all you sinners out there. Let's get it on!