I was wrong
, obviously.
BYU did not destroy Florida State like I thought they would. It turns out the Seminoles knew exactly where to strike, and they struck early and often.
Who knew?
Not me. But then again, if I could pick every game exactly right, you can bet I wouldn't be writing some crappy sports blog in Provo, Utah. I'd be living large. I'm talkin' Biff from Back to the Future 2 large.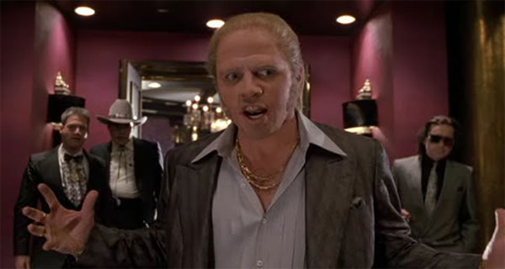 Anyway, as disgusted and horrified as I was on Saturday night, I gotta tell you--I'm not suicidal. I'm not stewing in the juices of depression, and I'm certainly not giving up on Max Hall or the Cougs.
I've decided to let optimism rule this year, so here are some positives we can take away from Saturday's travesty.
First, we learned a bit about ourselves. We learned we have some work to do, especially on defense, and that's a good thing. I would rather us learn these lessons early.
Second, it wasn't a conference game. Truly, I would rather lose out-of-conference than in conference. MWC championships should be BYU's primary goal, and now we have an opportunity to fix the cracks before we welcome teams like TCU and Utah.
Third, I don't feel bad about losing, frankly. USC lost to Washington on Saturday. Utah lost to Oregon, and Oklahoma lost to BYU two weeks ago. Parity exists in college football, and undefeated seasons are miraculous and nearly impossible (just ask Utah last year, who was three plays away from losing three games). BYU, despite losing, is still an excellent football team, and holding them to the standard of perfection is unfair. Even Florida loses to Ole Miss every once in a while.
Third, Riley Nelson looked pretty good, right? He led BYU down the field in the fourth quarter on a pretty impressive TD drive (remember: optimism).
To sum up, I feel good. I'm not wallowing in misery, and I'm not even close to giving up on BYU in 2009. Florida State played an incredible game on Saturday, and they deserved to win. They were a completely different team from what I saw in weeks one and two, and I give them credit for one heck of a beat down.
(Incidentally, I will never ever ever use the "altitude" argument ever again. Want to know how much altitude affects football games? 54-28. That's how much.)
So bring on the Rams, and I expect to see another full house at LES next week. Season starts in seven days.